Music Teaches Children a Second Language
Music Teaches Children Counting
Music Teaches Children Teamwork
Music Teaches Children a Valuable Skill
Music Teaches Children Art Appreciation
In this article, we will continue with our list; however, if you are convinced that you or your children should begin studying music more seriously, give us a call.
6) Music Teaches Children Performance Skills
Even if children are not actively engaged in musical study, they are likely performing musically in some manner through singing and dancing along with tracks. Musical performance helps children develop into healthy adults in a myriad of ways, including:
Coordination: Children learn how to turn single notes and sounds into a pleasant, cohesive piece of art.
Courage: Both formal and informal performance inspires courage in children.
Pleasure: Musical performers experience the pleasure of mastering something that makes other people happy.
Humility: Singing, dancing, or playing an instrument before an audience is uniquely humbling for performers.
Confidence: Successful musical performances instill confidence for children that can translate into public speaking, interview, and management skills.
7) Music Teaches Children Discipline
Studying music is enjoyable for children, but like any developing skill, requires numerous hours of rigorous practice. If young children begin the process of music lessons, and practicing fun and challenging pieces at home, they will learn the discipline necessary for mastering other subjects, athletics, and job skills.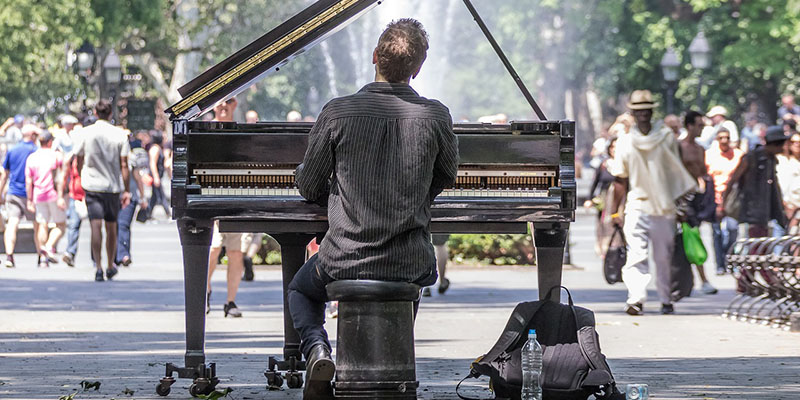 8) Music Teaches Children Imagination
When you are listening to music, are you also picturing it in your mind, imaging how the notes and voices fit together? Children studying music are also putting their imaginations to work.
"For me, reason is the natural organ of truth; but imagination is the organ of meaning. Imagination, producing new metaphors or revivifying old, is not the cause of truth, but its condition."

-C.S. Lewis
9) Music Teaches Children Stories
Like imagination, stories are a key component of a child's cognitive development. In Asheville and western North Carolina, folk, bluegrass, and other musicians have written and produced some of the greatest stories in America. Movies for children and adults incorporate music to help communicate emotion and tell their stories. Children who master musical ability can help tell stories through tone, chords progression, keys, crescendos and decrescendos, and lyrics.
10) Music Teaches Children History
From Beethoven, to Bach, to Mozart, to Elvis, to Taylor Swift, some of history's key figures are musicians. Composers and performers have had a profound impact on shaping the world in which we live. Children studying music will study and learn to appreciate the impact music has had on history.
If you want to begin studying music, Windmill Music Studios provides lessons for adults and children for every genre of music and numerous musical instruments. Contact us, if you, your children, or your whole family want to begin the process of mastering and appreciating musical instruments.